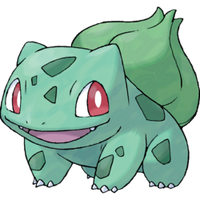 Bulbasaur is a Grass/Poison-type Pokémon.
It evolves into Ivysaur starting at level 16, which evolves into Venusaur at level 32.
Bulbasaur's base experience yield is 64.
Defeating a wild Bulbasaur yields 1 Special Attack EV.
It is one of the three starters obtained at the start of the game (if chosen).
Base Stats
| | |
| --- | --- |
| HP | 45 |
| Attack | 49 |
| Defense | 49 |
| Special Attack | 65 |
| Special Defense | 65 |
| Speed | 45 |
| Total | 318 |
Abilities
Locations
Drops
| Item | Rarity |
| --- | --- |
| Potion | Common |
| Super Potion | Uncommon |
| Hyper Potion | Rare |
| Poke Ball | Common |
| Great Ball | Uncommon |
| Ultra Ball | Rare |
| Leaf Stone | Extremely Rare |
| Sun Stone | Extremely Rare |
| Poison TM | Extremely Rare |
| Grass TM | Extremely Rare |