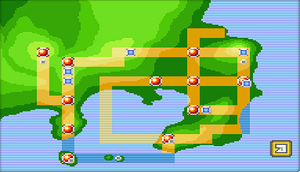 The Kanto region is the first area where every players start the game in. After character creation, players will end up in Pallet Town and a starter Pokémon will be chosen to accompany players throughout the journey.
Completion of the Kanto region is needed to unlock other regions, with Johto being the next. This means that players must have defeated the Indigo League, which is the regional Pokémon League of Kanto comprising of 8 Gym Leaders, Elite Four and the Champion. However, the Sevii Islands archipelago is the only exception where access to this region from here is available after earning the Volcano Badge from Blaine on Cinnabar Island.
A few Pokémon are exclusive to this region, including the 3 legendary birds and the 3 starters Pokémon. This is also the region where most players are in, and where important buildings like Altar, PVP Center, Clan War Center etc. are found.
Cities / Towns
Routes
Landmarks / Places of Interest
Exclusive in-game Buildings
Other regions accessible
Indigo League
| Members | Pokémon Type |
| --- | --- |
| Lorelei | Ice |
| Bruno | Fighting |
| Agatha | Ghost |
| Lance | Dragon |
| Member | Pokémon Type |
| --- | --- |
| Rival | Various |
Kanto Walkthrough
For a game guide on the Kanto region, please refer to Walkthrough.
Community content is available under
CC-BY-SA
unless otherwise noted.