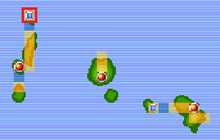 A huge inactive volcano that is found in the Sevii Islands on the archipelago on Island 1. Mt. Ember can only be accessed from Kindle Road on the right.(East)
Grass patches are seen in the lower section of this volcano, where very rare Fire-type Pokémon can be encountered. There are also a few cave entrances here, but they are not accessible in this game. The path that goes to the top of the volcano leads to a dead end, and there is nothing of interest at the upper section of Mt. Ember.
This is one of the places where the Feather of Moltres can be dropped from any wild Pokémon here, as long as the leading Fire-type Pokémon is alive. To have a chance of encountering a level 85 Moltres, give the feather to the leading Pokémon to hold and make sure that it is alive.
Wild Pokémon
Wild Pokémon of Level 20 - 35 are encountered here:
Average Experience and EV yield
Note: This section assumes only common and uncommon Pokémon are fainted and that no blessings are active.
Average Experience
Normal Member
Gold Member
| EV | Normal Member | Gold Member |
| --- | --- | --- |
| HP | | |
| Attack | | |
| Defense | | |
| Special Attack | | |
| Special Defense | | |
| Speed | | |
Pokémon Trainers
Crush Girl Jocelyn (72 hours cooldown before battling again)
Community content is available under
CC-BY-SA
unless otherwise noted.