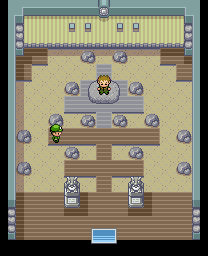 Pewter Gym is based in Pewter City of Kanto, led by Brock the Rock-type specialist. It is the first gym that a new player challenge.
After defeating the gym leader Brock, players will be awarded the Boulder Badge. In addition, Route 3 will be unlocked which allows player to move on to Mt Moon and later to Celadon City.
Pokémon Trainers
Camper Liam (72 hours cooldown before battling again)
Gym Leader Brock (30 minutes cooldown before battling again)
Note: Gym Leader cannot be re-battled again once they are defeated.
Community content is available under
CC-BY-SA
unless otherwise noted.