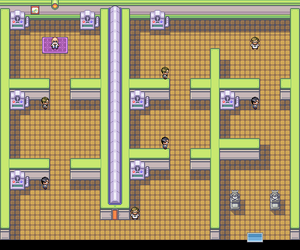 Being the sixth or seventh gym in Kanto for challenge, Cinnabar Gym is based in Cinnabar Island. Blaine is the gym leader who leads with Fire-type Pokémon, followed by those Pokémon trainers who reside here too.
At first, Cinnabar Gym is locked when players first arrived on Cinnabar Island. The Secret Key is needed in order to enter this gym, which can be obtained by defeating Scientist Chase in Pokemon Mansion F0 of Pokémon Mansion. The absence of sealed doors and quiz is a feature here that is different from the original game. To reach Blaine, players will have to challenge Pokémon trainers along the way while walking to him.
The Volcano Badge will be given to players once Blaine is defeated. Furthermore, Bill will then appear right next to the gym entrance who will bring players to One Island. From there, Two Island and Three Island can also be explored.
Pokémon Trainers
Note: Gym Leader cannot be re-battled again once they are defeated.
Community content is available under
CC-BY-SA
unless otherwise noted.