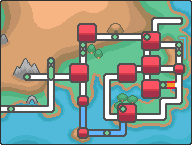 Situated in Kanto, Route 11 joins Vermillion City to the long route, Route 12. There are quite a number of Pokémon Trainers here waiting to be battled. The exit of Diglett's Cave is located here at the western end as well.
Landmarks
Wild Pokémon
Wild Pokémon of Level 11 - 16 are encountered here:
Average Experience and EV yield
Note: This section assumes only common and uncommon Pokémon are fainted and that no blessings are active.
Grass
Average Experience
Normal Member
Gold Member
173.7
261.5
| EV | Normal Member | Gold Member |
| --- | --- | --- |
| HP | 0 | 0 |
| Attack | 0.06 | 0.09 |
| Defense | 0.06 | 0.09 |
| Special Attack | 0 | 0 |
| Special Defense | 0 | 0 |
| Speed | 0.88 | 0.82 |
Fishing
Average Experience
Normal Member
Gold Member
166.0
251.0
| EV | Normal Member | Gold Member |
| --- | --- | --- |
| HP | 0 | 0 |
| Attack | 0.12 | 0.18 |
| Defense | 0 | 0 |
| Special Attack | 0 | 0 |
| Special Defense | 0 | 0 |
| Speed | 0.88 | 0.82 |
Surfing
Average Experience
Normal Member
Gold Member
185.2
278
| EV | Normal Member | Gold Member |
| --- | --- | --- |
| HP | 0 | 0 |
| Attack | 0 | 0 |
| Defense | 0 | 0 |
| Special Attack | 0 | 0 |
| Special Defense | 1 | 1 |
| Speed | 0 | 0 |
Pokémon Trainers
Youngster Eddie (72 hours cooldown before battling again)
Gamer Hugo (72 hours cooldown before battling again)
Youngster Dave (72 hours cooldown before battling again)
Engineer Bernie (72 hours cooldown before battling again)
Gamer Jasper (72 hours cooldown before battling again)
Engineer Braxton (72 hours cooldown before battling again)
Gamer Darian (72 hours cooldown before battling again)
Youngster Yasu (72 hours cooldown before battling again)
Gamer Dirk (72 hours cooldown before battling again)