[[File:Kanto Route 12 Map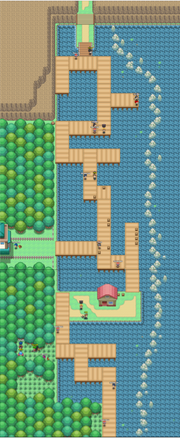 .png|thumb|120px|Map of Route 12]]
A long route that links to Lavender Town, Route 11 and Route 13 of Kanto, Route 12 is an area that consists mainly of a connecting bridge built on water.
A sleeping Snorlax is blocking the path at the junction where it meets Route 11, hence the Poké Flute should be obtained first from Mr. Fugi in Lavender Tower, so as to remove the Snorlax and access this route.
Fishermans House 2 is also located on Route 12, and players will be able to get the Super Rod for faster and better fishing bite rate.
Buildings
| Item | Price |
| --- | --- |
| Super Rod | $35,000 |
Wild Pokémon
Wild Pokémon of Level 11 - 16 are encountered here:
Community content is available under
CC-BY-SA
unless otherwise noted.