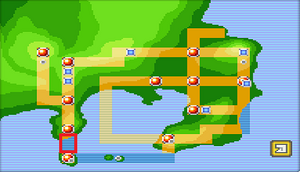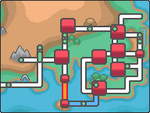 Found in Kanto, Route 21 serves as a connecting route for Cinnabar Island and Pallet Town. It is a rather long water route where HM Surf is required.
There is a grass patch at the northern end of this route, whereas moving towards south, many small sandy island can be seen along the way. Many trainers are awaiting battle on this route, and they use Water-type Pokémon.
Wild Pokémon
Wild Pokémon of Level 10 - 31 are encountered here:
Average Experience and EV yield
Note: This section assumes only common and uncommon Pokémon are fainted and that no blessings are active.
Grass
Average Experience
Normal Member
Gold Member
| EV | Normal Member | Gold Member |
| --- | --- | --- |
| HP | | |
| Attack | | |
| Defense | | |
| Special Attack | | |
| Special Defense | | |
| Speed | | |
Fishing
Average Experience
Normal Member
Gold Member
154.0
233.0
| EV | Normal Member | Gold Member |
| --- | --- | --- |
| HP | 0 | 0 |
| Attack | 0.12 | 0.18 |
| Defense | 0 | 0 |
| Special Attack | 0 | 0 |
| Special Defense | 0 | 0 |
| Speed | 0.88 | 0.82 |
Surfing
Average Experience
Normal Member
Gold Member
171.7
258.0
| EV | Normal Member | Gold Member |
| --- | --- | --- |
| HP | 0 | 0 |
| Attack | 0 | 0 |
| Defense | 0 | 0 |
| Special Attack | 0 | 0 |
| Special Defense | 1 | 1 |
| Speed | 0 | 0 |
Pokémon Trainers
Fisherman Ronald (72 hours cooldown before battling again)
Swimmer Spencer (72 hours cooldown before battling again)
Fisherman Nolan (72 hours cooldown before battling again)
Swimmer Jack (72 hours cooldown before battling again)
Swimmer Roland (72 hours cooldown before battling again)
Swimmer Jerome (72 hours cooldown before battling again)