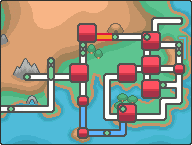 Located in Kanto, Route 3 connects Pewter City and Route 4 together.
It will only be accessible after a player has defeated the gym leader Brock in Pewter City.
Wild Pokémon
Wild Pokémon of Level 5 - 7 are encountered here:
Average Experience and EV yield
Note: This section assumes only common and uncommon Pokémon are fainted and that no blessings are active.
Average Experience
Normal Member
Gold Member
79.83
119.9
| EV | Normal Member | Gold Member |
| --- | --- | --- |
| HP | 0.25 | 0.25 |
| Attack | 0.25 | 0.25 |
| Defense | 0 | 0 |
| Special Attack | 0 | 0 |
| Special Defense | 0 | 0 |
| Speed | 0.5 | 0.5 |
Pokémon Trainers
Lass Janice (72 hours cooldown before battling again)
Bug Catcher Colton (72 hours cooldown before battling again)
Youngster Ben (72 hours cooldown before battling again)
Bug Catcher Greg (72 hours cooldown before battling again)
Bug Catcher Hink (72 hours cooldown before battling again)
Lass Sally (72 hours cooldown before battling again)
Youngster Calvin (72 hours cooldown before battling again)
Lass Robin (72 hours cooldown before battling again)