Route 4 is situated in Kanto, linking up Route 3 and Cerulean City. It is divided into 2 segments due to Mt Moon being placed in between.
Players can enter Mt Moon from the left segment of Route 4. On the right segment, wild Pokémon can be caught in the small grass patch and also by fishing which is only possible when using the HM Surf. Do note that the right segment is a one-way route to Cerulean City. Hence, after jumping off a ledge, players cannot return to Mt Moon and all previous places until going through Diglett's Cave back to Route 2. Another way to return is to go west of Cerulean Cave, but the HM Surf is required.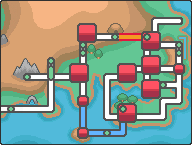 Buildings
Landmarks
Wild Pokémon
Wild Pokémon of Level 5 - 10 are encountered here:
Average Experience and EV yield
Note: This section assumes only common and uncommon Pokémon are fainted and that no blessings are active.
Grass
Average Experience
Normal Member
Gold Member
98.31
148.1
| EV | Normal Member | Gold Member |
| --- | --- | --- |
| HP | 0 | 0 |
| Attack | 0.06 | 0.09 |
| Defense | 0.06 | 0.09 |
| Special Attack | 0 | 0 |
| Special Defense | 0 | 0 |
| Speed | 0.88 | 0.82 |
Fishing
Average Experience
Normal Member
Gold Member
94.17
142.5
| EV | Normal Member | Gold Member |
| --- | --- | --- |
| HP | 0 | 0 |
| Attack | 0.12 | 0.18 |
| Defense | 0 | 0 |
| Special Attack | 0 | 0 |
| Special Defense | 0 | 0 |
| Speed | 0.88 | 0.82 |
Surfing
Average Experience
Normal Member
Gold Member
104.8
157.5
| EV | Normal Member | Gold Member |
| --- | --- | --- |
| HP | 0 | 0 |
| Attack | 0 | 0 |
| Defense | 0 | 0 |
| Special Attack | 0 | 0 |
| Special Defense | 1 | 1 |
| Speed | 0 | 0 |