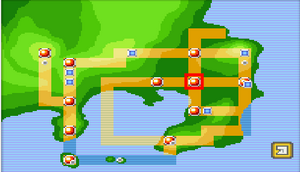 A huge building in Saffron City of Kanto, the Silph Co is taken over by Team Rocket. To access this building, players must have obtained the Poké Flute in Lavender Tower from Mr. Fugi. This area is compulsory in order to remove those Rocket Grunts blocking the entrance of important buildings in Saffron City. To achieve this, Giovanni has to be defeated.
Silph Co F1
Pokémon Trainers
Giovanni (72 hours cooldown before battling again)
Note: Rocket Grunts will disappear from Saffron City after defeating him for the first time. After returning to this building again, Giovanni will not be around anymore.
Community content is available under
CC-BY-SA
unless otherwise noted.