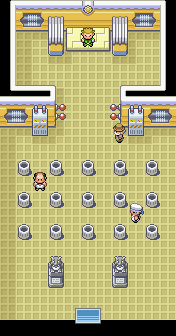 With Lt Surge as the gym leader, Vermillion Gym sits in Kanto region Vermillion City. It focus mainly on Electric-type Pokémon and is the third gym available for players to challenge.
A small tree is seen blocking the path to the gym entrance. In order to access this gym, HM Cut should first be obtained from the Captain in SS Anne. Do also take note that unlike the original game, the electric fence in the gym is now not in effect. Hence, players can go up to Lt Surge directly without the need to solve any puzzle.
Thunder Badge will be awarded to players who have defeated Lt Surge. In addition, HM Flash can then be used outside battle to light up some caves.
Pokémon Trainer Sailor Dwayne (72 hours cooldown before battling again)
Note: Magnemite has Sturdy
Note: Gym Leader cannot be re-battled again once they are defeated.
Note: Magneton has Sturdy
Community content is available under
CC-BY-SA
unless otherwise noted.