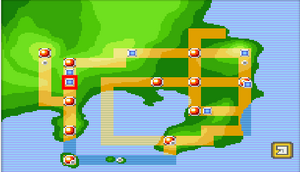 Viridian Forest is located within Route 2 of Kanto, and it must be traversed in order to go from Viridian City to Pewter City when the player does not have the HM Cut.
A distinctive and unique feature of Pokémon Planet is that players are able to go deeper into the forest, entering the 2 specially custom maps: Deep Viridian Forest and Deep Viridian Forest 2. However, accessing these 2 areas require the HM Cut and Surf.
This is also the first map where new players will start to encounter NPC Pokémon Trainers scattered randomly across the map. When passing in front of these NPCs directly under their sights, players will be challenged for a match, and they can't run away from these battles. To avoid NPC battles, it is best to walk behind them or somewhere far away from their sights, although some battles cannot be avoided.
Wild Pokémon
Wild Pokémon of Level 3 - 6 are encountered here:
Average Experience and EV yield
Note: This section assumes only common and uncommon Pokémon are fainted and that no blessings are active.
Average Experience
Normal Member
Gold Member
58.33
88.64
| EV | Normal Member | Gold Member |
| --- | --- | --- |
| HP | 0.44 | 0.41 |
| Attack | 0 | 0 |
| Defense | 0.24 | 0.36 |
| Special Attack | 0 | 0 |
| Special Defense | 0 | 0 |
| Speed | 0.44 | 0.41 |
Pokémon Trainers
Bug Catcher Rick (72 hours cooldown before battling again)
Bug Catcher Doug (72 hours cooldown before battling again)
Bug Catcher Anthony (72 hours cooldown before battling again)
Bug Catcher Charlie (72 hours cooldown before battling again)
Bug Catcher Sammy (72 hours cooldown before battling again)