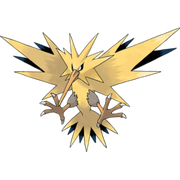 Zapdos is an Electric/Flying-type Legendary Pokémon. Zapdos, Articuno and Moltres form the Legendary trio of Kanto.
It does not evolve.
Zapdos's base experience yield is 261.
Defeating a wild Zapdos yields 3 Special Attack EVs.
There is a one out of One Hundred Twenty Five thousand (1/125,000) chance of encountering this Pokemon. It is the most common legendary found thus far.
Base Stats
| | |
| --- | --- |
| HP | 90 |
| Attack | 90 |
| Defense | 85 |
| Special Attack | 125 |
| Special Defense | 90 |
| Speed | 100 |
| Total | 580 |
Abilities
Locations
| Location(s) | Spawn Level | Rarity | Spawn Rate | Spawn Rate Enhanced Feather Of Zapdos |
| --- | --- | --- | --- | --- |
| Kanto Power Plant Basement | 85 | Legendary | 1 in 125,000 | 1 in 150,000 |